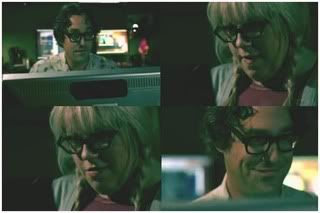 Penelope García. oh boy, I even love her name. Cause she's the man when it comes to analysis & investigation. She's amazing! I love the way she works for the FBI, & how she tries to help (even if she screwed it up the last time). The way she coded the system & how she tricked Lynch to caught him up in a hole LMAO.
Cause she's the kind of girl (or woman, if you want) I wanna be someday. So determinated, & she's so cool. García even died her hair pink ♥. Penelope learn by herself how to code when she was 18, after her parents died:
After my parents died, I kind of went off the rails for a while. I dropped out of CalTech. I lived underground, basically. But I kept teaching myself code.
I might know how it felt when that guy asked her out at the coffee shop. & how did she feel after it:
I let my guard down.
I want to do something that TRULLY matters. something important. big. huge if it's possible.
I like to think of myself... As a tireless crusader for world karma.
(i know it might not be the same, but sounds pretty cool though).
everything happens for a reason.
I might even take that as a personal quote. It's certainly true. (man! she's so smart).
& I LOVE the fact that thanks to that damn narcissist angel of death, she met David Lynch, and they start trying to backhack each other & doing geek staff at the FBI system, but ended up helping each other & solving the situation at the BAU office without any victims. I hope to see more about this
almost
romance in the future.